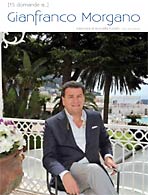 15 questions for... Gianfranco Morgano
Capri Review (26/06/2012)
Magazine
Altre lingue disponibili: Italiano
A Caprese born and bred, born in 1955, Gianfranco Morgano left the island at 18 to go and study in Naples. He attended the liceo classico high school and then graduated in Medicine, specializing in cardiology. He has worked at the University of Naples and at New York Hospital for six months; he has over 80 scientific publications. At 37, he abandoned his medical career and returned to Capri to continue in the family tradition and dedicate himself completely to the hotel business. Today, in addition to successfully managing the Grand Hotel Quisisana he is President of the Fondazione Capri, set up to encourage and develop artistic excellence in the local area, and of the Capri Excellence association of entrepreneurs.

If I say Capri to you, what's the first thing that comes to mind?
Its uniqueness. This is a unique place in the world, and not just because of the sea and countryside. Its people, hospitality and history all make it a place without equal.

What is your favourite place on the island?
Tragara. The road leading to the belvedere is one of the most beautiful on the island. Then it's also the place where I have spent most of my life, where I live and where I'm always happy to come back to.

What would you change about Capri?
Nothing really. It has always been and remains a place that keeps up with the times.

What are you particularly proud of?
Of having been able to keep the Quisisana at a level of excellence. For this reason and because of its history, it is now considered one of the emblematic places on the island.

Is there something you have never done that you would like to have done?
I don't think so, quite honestly. And if there was something that I can't remember now, it means that it wasn't important.

Is there a place you have never been but would like to go to?
I've got a conference soon that is taking me to South Africa, one of the places I have never been and would like to visit. But it's South America that I would like to get to know in more depth. I've visited Buenos Aires but I think it would be lovely to discover all the wonders of this continent: the Iguazu falls, Cusco and Machu Picchu.

Where would you spend a year's sabbatical?
In the United States. I know the East Coast very well and I'm fascinated by California. Then there's New York, where I often go but which never ceases to astonish me. Every time you discover something new.

What's your first thought when you wake up?
To get informed. Until a short time ago I would flick through the newspapers; now I have an iPad and I can read the Corriere della Sera and Il Mattino on that every day.

Is there a book on your bedside table?
I alternate history books with John Grisham novels. Then I always have a book from Gerard de Villiers' SAS series (Son Altesse Serenissime ed.), especially the ones featuring Malko Linge.

Is there someone who has been fundamental in your life?
My parents, definitely. They taught me the fundamental principles of life. Then Gianni Chervatin. He was the manager of the hotel when I came back to Capri to become involved with the Quisisana and he was like a big brother to me, a really important person. It was he who shaped me, from the professional point of view.
What is real luxury?
Moderation. I think that the real luxury today is what the English call "understatement".

What makes you happy?
Being at peace with myself. I know that I put all of myself into the things I do and the relationships I have, and since I give my utmost I never feel remorse.

What are you afraid of?
I'm not generally afraid of anything. I'm usually calm: I'd say I "think positive".

If your house was on fire, what would you save?
My old vinyl LPs, almost all from the 1970s and '80s. Even though I listen to all the tracks on my iPhone now, those records are part of my life.

What is life to you?
A great gift from God.