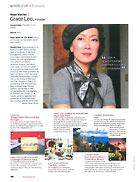 GRACE LEO, Hotelier

Current Role: President. G.L.A Hotels; Based: Paris;

Days Spent on the Road: Leo is on the road for two weeks out of each month;

Street Cred: Since starting G.L.A Hotels in 1985, Grace Leo has been a trailblazer in the hotel management arena, a realm once largely dominated by men Known for crafting properties that reflect a wonderful attention to detail and world-class style, Leo has consulted on such cutting-edge hotels and resorts as the Hotel Guanahani & Spa in St. Barts. Hotel Lancaster and Hotel Montalembert in Paris, the Cotton House in Mustique and The Clarence In Dublin (in partnership with the band U2).
Born to Hong Kong Chinese parents, Leo studied in the United States, earning degrees at Stanford and Cornell G.L.A
Hotels, currently operates two properties in Paris-the Hotel Beauchamps, and the Hotel Jules.
-Joson Olivet Nixon


Favorite vacation spot
I am a big fan for Capri for experiencing la dolce vita and, of course, the glamorous Grand Hotel Quisisana a highlight is enjoying casual Italian cuisine overlooking the famous Faraglioni rocks and my annual pilgrimage to the Italian boutiques. And I always pay a visit to my jeweler at Puttini Gioielli.