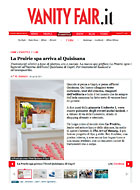 La Prairie spa arriva al Quisisana
VanityFair.it (26/04/2011)
Magazine
Trattamenti olistici a base di platino, oro e caviale. La nuova spa griffata La Prairie apre i battenti all'interno dell'hotel Quisisana di Capri. Per trattamenti lussuosi e all'avanguardia.
Download original source: Vanity_Fair_a.20110429104247.pdf (0.43 MB)
Quando si pensa a Capri, si pensa all'hotel Quisisana. Qui hanno alloggiato teste coronate, star del cinema, magnati dell'editoria e tutto il bel mondo che da sempre dell'isola campana ha fatto meta di vacanze haut de gamme.
A due passi dalla piazzeta Umberto I, vero cuore pulsante degli eventi social isolani, e a ridosso di via delle Camerelle, strada di shopping sfrenato e ostentato.
Un luogo unico al mondo dove La Prairie, leader nel settore luxury dello skincare, ha scelto di aprire i battenti di The Art of Beauty, il più fastoso progetto di Spa 5 stelle. Ben 8 cabine, una piscina interna, 2 aree sauna (un bagno turco e una sauna svedese), con un esaustivo carnet di trattamenti viso e corpo.

Trattamenti da cabina di La Prarie

Platinum Rare Facial: Un nuovo trattamento per il viso che utilizza infusi di platino per ripristinare l'equilibrio della pelle attraverso l'esecuzione di un trattamento a quattro mani (290 euro, 90 minuti).

Caviar Firming Treatment: Perle di caviale per rassodare la struttura del viso in modo istantaneo e restituire tono ai tessuti. Ideale per rendere mat la pelle (170 euro, 90 minuti).

Cellular Resurfacing Treatment: I diamanti micronizzati di Cellular Micro-dermabrasion esfoliano per ridurre la presenza di rughe, acne e linee d'espressione. Un peeling meccanico che illumina (160 euro, 90 minuti).

After Sunset Facial: Ideale per chi si espone in maniera frequente al sole, è un programma di rigenerazione epidermica basata sull'alternanza di trattamenti caldi e freddi (130 euro, un'ora).